About Us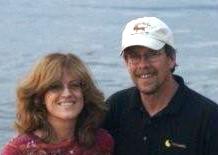 Our Mission
Gardening Inspirations strives to bring joy to others through the exciting and fun world of miniature gardening.
Background in Nature
My name is Rhonda and my husband, Ed, and I have always had a love of the outdoors, including hiking, camping, and canoeing/kayaking, as well as just being outside in nature doing landscaping. I've been an avid gardener for over 25 years, and during that time we've designed, planted and maintained many acres of gardens, including various types of gardens (shade, conifer, perennials, waterfalls, etc.). We found it especially rewarding to use our imagination to incorporate unusual plants into beautiful settings while making each garden unique.
Professional Education and Experience
I started on my formal gardening educational journey in Connecticut by obtaining my Master Gardener certification in 2004. After leaving my first career in computers several years later, I officially switched to the "green industry". I worked in retail nurseries and garden centers for several years, initially as a grower and then as a seller of plants. I found I loved to work with customers, sharing my knowledge and helping them to select the perfect plants. I then worked for the College of Agriculture at the University of Connecticut to train future Master Gardeners, and along the way I became an Advanced Master Gardener. I received my Accredited Nursery Professional designation (a challenging course for green industry professionals) shortly thereafter. I gained even more knowledge by going back to college, where I became a horticulturist and learned landscape design, and received several educational awards. And after we moved to Florida, I started working in retail garden centers/nurseries, learning my southern plants.
Business

I started my own business in 2008, initially doing landscape design consultations. But my love of herbs led me to grow herbs and vegetables for farmers' markets, all organically. We had two greenhouses in Connecticut, along with banks of seed starting lights and heating mats, and used our own large herb and vegetable gardens as trial gardens to grow many interesting varieties. Eventually I discovered the world of miniature gardens, and shortly thereafter, that became my sole focus.
After splitting my business between two states for several years, I finally switched to working solely in Florida, concentrating on a specialized tropical flavor to my work. We live (with our beloved pets) in the central Florida region, with our home base being in The Villages, less than an hour from Orlando.
Dreamscapes
Miniature gardening combines my love of plants with an artistic flair, something my two artist grandmothers would be proud of. My husband participates by making many of the wood products, and he's also great at providing 'out of the box' ideas. We call our products "Dreamscapes", because the recipient can imagine themselves relaxing in the scenery. You may find that my work radiates "good energy". That's because I am also a Reiki energy healer. People have told me that my greenhouse is a beautiful workspace filled with wonderful energy that they can actually feel. And I infuse all miniature garden gifts with Reiki energy with the intent that it be passed along to the recipient.
We also sell our miniature gardens and globes at local garden and craft shows. We create custom miniature gardens upon request. And we love to pass along the fun of miniature gardening by offering workshops at garden centers or The Villages' Lifelong Learning College (where I'm an instructor), doing presentations/demos for groups, and providing private or home parties for friends.